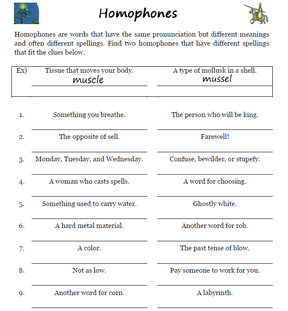 Homophone Riddles 2
Homophone Riddles 3
Homophone Riddles 4
Homophone Riddles 5
Word riddles are a fun source of comprehensible input and vocabulary building. The riddles in this section are all homophone riddles. Homophones are word pairs that have the same pronunciation but different meanings and often different spellings.

In these riddles, students try to find homophone pairs that solve the clues. For example, if the clues are the opposite of buy and the smallest unit of life, then the homophone pair sell and cell will solve this riddle.

There are homophone worksheets to the left but this can also be played as a game where students think up homophones and clues to share with other students.