This card game can be used to teach the modal 'can,' especially in regards to abilities or things we can do. The vocabulary covered includes playing sports, gymnastics, musical instruments and things like whistling or snapping your fingers.
.
A: Can you whistle?
B: Yes, I can. (No, I can't).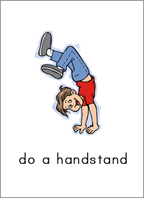 Other 'Can' resources:
the Young Learners section.