Getting Certified: An article on qualification and certifications for the professional ESL teacher. Includes information on Master's Degrees and TEFL/TESOL certificates.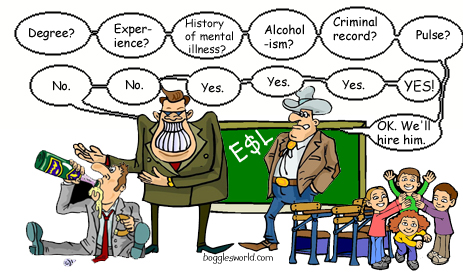 ESL is an industry that brings in more money yearly than Airbus gets peddling its airplanes around the world. So the question on everybody's mind --mine too, I might add-- is "How can I get a piece of that action?" Well, experience may be the best teacher but it doesn't always get you the best teaching jobs -or the highest pay for that matter. For teachers who plan to stay in this profession for the long haul, some form of professional development might be in order.
There are several routes you can go to upgrade your credentials, but the most common ones are a TEFL certificate, an education degree leading to a teaching license, or a master's degree. All have their pros and cons, depending on what you envision yourself doing in 10 years.
TEFL Certificates, TESOL Certificates, CELTA, CELTYL, and RSA
TEFL and TESOL certificates come in many varieties. They are usually conferred after completing a course that may last anywhere from one week to six weeks. A typical course is usually about three to four weeks long and requires about 120 hours of instruction. Beware of courses that offer certificates for 1 week of instruction; they are the ESL equivalent of snake oil peddlers.
The advantage of a TEFL/TESOL certificate is that it is relatively cheap, painless in terms of hours spent, and available in most of the primary ESL markets around the world. And a lot of the TEFL/TESOL certificate providers can set you up with a job upon completion of their course (for which they may or may not collect a handsome fee from the school that hires you). If fact, traveling is one of the reasons to go and get yours. There is almost certainly a TEFL/TESOL certificate provider in any country where you wish to teach. And if there isn't, there are plenty of TESOL/TEFL certificate providers on-line or through distance education.
One of the most recognized certificates is the CELTA. CELTA is Cambridge ESOL's Certificate in English Language Teaching to Adults. The fact that it is widely recognized and that there are CELTA centers all over the world, makes it a serious contender. If you are more interested in teaching kids you can look into CELTYL, which is aimed at training educators to teach children. RSA was another credential that was offered in the past, but has now been incorporated into the CELTA.
In most ESL markets of the world, you can will find countless teachers doing just fine without any qualifications beyond a bachelor's degree (and some without even that). That said, having a TESOL/TEFL certificate will give you an edge and may even get you a coveted university position. As is often the case, universities will have a cancellation at the last minute and scramble to find a teacher for the new semester. In these sitautions they may waive the requirement for a graduate degree. Out of the dozens (possibly hundreds) of applicants a certificate may be what gets you the interview. Also, in a few countries, certificates are becoming a requirement. The Wild West of anything-goes ESL is waning as an industry wide push for higher standards is taking hold where it can.
The problem with TESOL/TEFL certificates is that they are of little value outside the overseas ESL/EFL profession. Accreditation is a murky area. There is no international organization that gives recognition to programs. A lot of certificate providers join the IATEFL (International Association of Teachers of English as a Foreign Language) or TESOL (Teachers of English to Speakers of Other Languages) and then display their memberships on their websites as if being a member shows that they are an internationally recognized institution. But anybody can join these organizations and being a member confers no international recognition whatsoever. When recognition does come, it usually comes at a national level. So you might want to make sure that your own country will recognize your certificate before you spend your time and money. Of course, in a lot of EFL markets around the world, any certificate will be recognized.
Master's Degrees: Education, TESOL, Applied Linguisitics? On-line or Off-line?
If you plan to invest more time in this profession then a master's degree may be more up your alley. The main benefit of a master's degree is the possibility of university level jobs that pay more, give decent time off, and offer a teacher a real stab at a career. In a lot of countries, a master's degree almost ensures you of getting a university teaching position.
The first question is what to do your masters in: Education, TESOL, and applied linguistics are all widely accepted. A degree in education has the advantage that you can use it when you get back home. For the most part, the jobs abroad don't really care whether you do a degree in TESOL, applied linguisitcs, or education. They just need that degree and experience.
If you do decide on TESOL or applied linguistics, one advantage that you will have is that you can do it on-line. And that means you can be making the big bucks while emailing your assignments and getting your credentials. Three universities that I would like to recommend are the University of Birmingham, and two Australian universities, the University of New England and the University of Southern Queensland. The Birmingham program is very rigorous and has a high reputation around the world. But it is the Australians who seem to be leading the world in the new era of on-line programs. The programs are convenient --the University of New England prgram is entirely on-line-- and affordable at less than $8,000 U.S. for an entire masters program. With these programs it is possible to get your accreditations and put some money away at the same time as you are seeing the world.