Space Explorer Flashcards:
These cards teach difficult verbs through images of space, astronauts, and distant planets. They were designed by Chris Gunn as a part of a vocabulary enrichment program using content-based materials.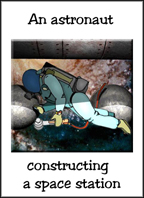 These flashcards are meant to teach a list of verbs related to industry, economy, and science. Cards include:
Constructing a Space Station
Mining an Asteroid
Producing Space Suits
Growing Some Crops
Exploring a Cave
Investigating a Leaky Pipe
Doing Research
Rescuing a Survivor
Repairing a Spaceship
Connecting a Hose
Gathering Minerals
and many more flashcards!
If you find these cards intersting, your students may also enjoy the Spaceship Flashcards, which teach about the objects in our solar system.