The Gorilla Cards:
These cards teach more advanced verbs/object pairs such as arguing with a monkey and scratching his head.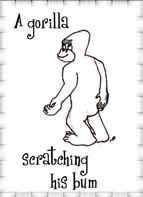 Lanternfish Cards:
These cards are great vocabulary builders. Just, click, print, and paste onto cardboard (laminating is also a good idea).
ESL for kids flashcards
If you would like to see more flashcards for children's ESL classes, check out the gallery. For ideas, on how to use them check out the cards introduction page.
The Lesson Plan Archive
For more lesson plans visit the archive.
The Ask Thomas Archive
More questions and answers in the ATarchive.