Relative Clause/Job Cards
Designed by Cam Lirette, these cards can be used to supplement relative clause lesson plans and work sheets. There is a lot of vocabulary and the job flashcards are not the usual ones that elementary school students learn. In fact, these cards are meant for students in middle school to university.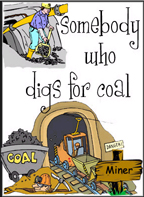 Job Flashcards for ESL/EFL
Each job has two cards in the form of relative clauses that describe the job. Students have to match the two descriptions. The conversation should go something like this:
S2: Do you know somebody who digs for coal?
S2: Do you mean a miner?
S1: Yes, I do.
S2: No, I'm sorry. Go fish.
or
Yes, Here it is.
For ideas on how to use these cards visit the ESL Flashcards section, and to see more cards, check out the Flashcard Gallery.
If you use these cards, you may also be interested in the scientist cards, which are based on similar grammatical structures.
Here is a job cards supplement that students can refer to.
All materials (c) 2007 Lanternfish ESL