Salmon Life Cycle Worksheets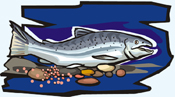 Note: In these worksheets, the species of salmon listed are chinook (not king), chum (not dog), and coho (not silver), which is pretty much the standard accepted by government and educational institutions.
---
Salmon Life Cycle Word Search:
This word search contains most of the vocabulary needed to teach the salmon life cycle.
---
---
Salmon Life Cycle Crossword:
This crossword can be used to review the terms studied in salmon life cyle units.
---
Salmon Life Cycle Word Search:
This cloze activity follows the progression of a salmon from eggs to the return journey
---
Other Animal related theme worksheets:
Reptile Worksheets | Animal Body Parts | Animal Behaviour | Insect Worksheets | Bat Worksheets
Food Chain Worksheets | Animal Habitat Cards | Frog Life Cycle | Owl Worksheets | Beaver