These flashcards contain vocabulary related to the season of spring, especially the theme of growing and emerging life.
Some terms covered are:
A farmer planting seeds.
Seeds sprouting.
Birds hatching from their eggs.
New leaves emerging.
Crops growing.
Cherry blossoms blooming.
Flowers budding.
Bears waking up from hibernation.
Snow melting in the mountains.
You can use the game Fish or memory to practice this game. Fish goes likes this:
A: Do you a farmer planting seeds?
B: Yes, I do.
(Or No, I don't. Go fish. A takes a card from the deck)
If the answer was yes, B gives the card to A and A gets a point.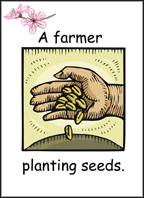 (If you don't want to teach emerge, hibernate, and migrate)
As well the worksheets in this section review much of the vocabulary covered in these cards: