This card game can be used to teach the stative verb 'want.' It covers such vocabulary items as play tag, make a snowman, do a puzzle, play football, and go on the swings.
.
A: Do you want to play tag?
B: Yes, I do. (No, I don't).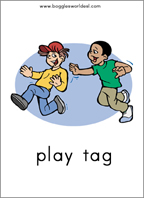 Other 'Can' resources:
the Young Learners section.