Run, Turkey. Run!
A Thanksgiving Read and Write Book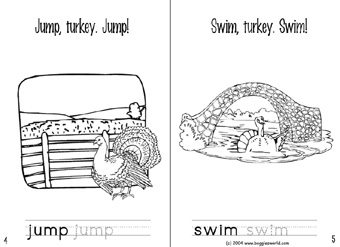 Farmer's coming. Run, turkey. Run! This simple Read-and-Write book is available for
download. The book covers some simple verbs: run, jump, swim, climb, hide, dance, sing, laugh, and sleep. When you download the link you will be required to enter a user name and password (this is to prevent robots, auto downloaders, and spider from draining bandwidth).
You can use the following user and password: teacher, teacher
For ways to make read-and-write books visit the library of read-and-write books.