Elkonin Boxes Resources
Elkonin boxes can be used to teach phonemic awareness by having students listen for individual sounds and marking where they hear them in the boxes. Each box in an Elkonin box card represents one phoneme, or sound. So the word sheep, which is spelled with five letters, has only 3 phonemes: /sh/ /ee/ /p/. Segementing words is one of the more difficult skills children acquire. It is also one of the best predictors of future success in reading. Elkonin boxes are a physical segmentation of words into phonemes.
Though not originially intended for teaching spelling, Elkonin boxes can be used to practice spelling from a synthetic phonics point of view. The Elkonin boxes available here are modified somewhat to give children more room to write when they encounter a digraph such as /ee/ or /sh/. Moats (PDF File) recommends this technique for spelling:
밄ecause it helps fix phoneme-grapheme correspondences in children뭩 minds, this technique supports children뭩 spelling, reading and writing development?(Moats, American Educator, Winter 2005-2006).
There are many activities that teachers can do with these boxes, but the main activity I use them for is to 'stretch' out words, identify similar or different sounds and then guess at spellings.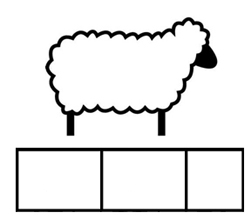 An elkonin box for the word sheep, which
consists of three phonemes (sounds). Our
boxes are modified to a little more room for
fitting digraphs such as 'ee' and 'sh'.
We segment the words and then try to figure out possible spellings and then I help them choose the correct spelling, which they write into the boxes (i.e. sheep as opposed to sheap).
The Elkonin boxes here are graphic files. There are two ways teachers can use them. Teachers can print them off individually and laminate them and use them like a deck of cards, or teachers can select cards to paste into a template and make a worksheet. Here are some sample sheets I've made with the Elkonin box cards: